"Etre seule dans mon jardin.
Dès que j'entre au jardin, le temps disparaît, l'âge ne compte plus. J'ai la certitude que rien de triste ne peut m'y arriver, si ce n'est la difficulté de le quitter".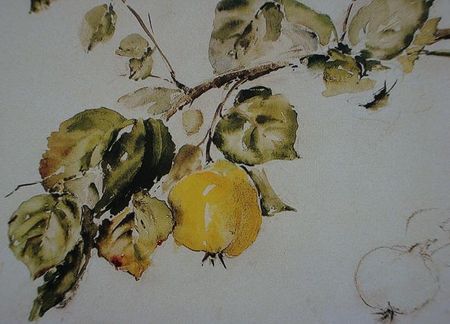 1 Maria Hofker in her garden. Photography
Marÿke Heuff
2 Watercolour by Maria Hofker
3 & 4 Georg Rueter's garden In Sloterdijk.
Maria Hofker's father taking care of his roses. Photos Uitgeverij Waanders, Drents Museums
La couleur jaune du
billet précédent
sur le musée Frans Hals et le voyage à Haarlem et Amsterdam m'ont remis en mémoire une personne qui m'a accompagnée très longtemps bien que je n'ai pas eu la chance de la rencontrer dans la vraie vie. J'avais conscience d'habiter pas très loin de son jardin lorsqu' elle s'en occupait encore. Et cette pensée, pour moi emplissait les canaux, la ville entière d'une puissance végétale et bienfaisante. Elle est morte en 1999 et j'ai bien souvent pensé à elle quand j' habitais sur le Herengracht, que j'arpentais les canaux d'Amsterdam et me perdais dans la verdure de Prinseneiland avec un ami photographe. Un vrai "Amsterdamer" qui connaissait le nom et l'emplacement de chaque arbre de sa ville natale. Qu'importe puisque le monde du réel est moins fort que le monde de l'imagination; il passe quand les forces de l'esprit demeurent. Maria Hofker a voulu garder la trace de ce passage dans ses aquarelles. Ses carnets disent sa joie et son émotion à contempler son jardin. C'est une parcelle ordinaire parmi des centaines d'autres, de 16 mètres sur 17 dont elle a fait un jardin sauvage en cultivant des centaines de vivaces et de roses.
"Autrefois j'aurais souhaité un grand jardin, mais j'ai compris que le bonheur ne vient ni de la dimension, ni de la possession. Avec l'âge qui arrive, je suis ravie de sa taille et le fait de le louer ne change rien. Dès que j'entre au jardin, l'âge disparaît, l'âge ne compte plus. J'ai la certitude que rien de triste ne peut m'y arriver, si ce n'est la difficulté de le quitter".
M.H.
The yellow colour of the post on the Frans Hals Museum in Haarlem reminded me of a person I never knew in real life but whose vegetal presence was very dear to me, Maria Hofker. I was very much conscious to live in her neighbourhood when I inhabited a house on Herengracht. Walking around through Amterdam's streets and canals with a true "Amsterdamer" friend, a photographer born in Amsterdam who knew the name and the place of each tree in his beloved city, I felt the fairy presence of the green. Sloterdijk was but only a few metres away "as the crow flies."
Maria was born in July 1902 in the family house in Sloterdijk. Her father Georg Rueter was an artist -
a painter, an illustrator and designer. He also was a very sensitive gardener. He had created an enchanted garden at the back of their house. Unfortunately in 1956, big changes were looming. Due to the city of Amsterdam's expansion projects, the family was expropriated. Their heart was broken but they endured uprootedness with dignity and fortitude. Nethertheless Gerarda died in November the same year. Maria Hofker's father and mother were already aged 85 and 86.
5 Willem. G. Hofker, Maria Hofker's husband. Self-portrait, 1935