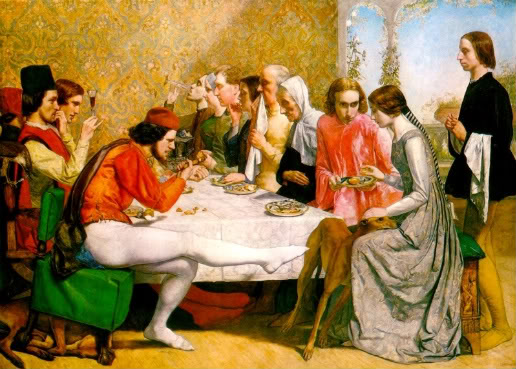 2 Salvador Dali,
Mae West sofa
5
Isabella
,
John Everett Millais,
103 cm x 142.8 cm,
Walker Art Gallery Liverpool
"
Tate Britain
's new Pre-Raphaelites exhibition is a steam-punk triumph, a raw and rollicking resurrection of the attitudes, ideas and passions of our engineering, imperialist, industrialist, capitalist and novel-writing ancestors. The pistons are pounding, the steam is hissing, cigars are being lit and secret lives once more being concealed. The Victorians are back in town. This is as much a costume drama as a show, jam-packed with heroes and villains and innocent victims, holding up a lurid mirror to the age that built Britain.
As is the way with costume dramas, it is at once delightful and a bit silly. It delights because the curators really believe in the artistic brilliance of the "Brotherhood" and that enthusiasm is infectious. The silliness is inherent in Pre-Raphaelite art, which has some of the relentlessness of a speech by William Gladstone and the timebound detail of a condition-of-England novel by Benjamin Disraeli. You can't have everything.
"
This is how Jonathan Jones, journalist at the Guardian chose to begin his review of the Tate Britain's massive exhibition on Pre-Raphaelites. It is not enough to say that the British intelligentsia is rather of two minds about this aesthetic movement, many critics and intellectuals take it for granted that they have to sneer at it.
The exhibit seems to aim for comprehensiveness.
It
brings together over 150 works in different media, including painting, sculpture, photography and the applied arts
and you need to allow at least three hours to make sure you can see it properly. For its curators
the Pre-Raphaelites
constitute Britain's first modern art movement and they want to establish
the
PRB (Pre-Raph Brotherhood)
as an early example of the avant-garde: painters who self-consciously overturned orthodoxy and established a new benchmark for modern painting and design. Their art bursts with sexuality and social critique.
They stage such a bold and lurid revelation of the secret and lies of the Victorian age that their reliance in some complacent artistic formulae can be easily forgiven as the flaw of a young and talented band of radicals.
Les Préraphaélites sont-ils une avant-garde? Telle est la question que se posent les commissaires de l'exposition organisée par la
Tate Britain
en l'honneur de ce mouvement tour à tour décrié ou adulé. Un accrochage dense, de
plus de 150 oeuvres dans différents média, dont certaines n'ont encore été que très peu montrées cherche à mettre en avant le contexte historique. Il est de bon ton Outre-Manche, parmi une certaine intelligentsia, de se moquer de cette esthétique dont on souligne les tics et abus de formules et une certaine forme de pédanterie empesée. Est-on sûr qu'on comprenne bien aujourd'hui leur langage, ces petits miracles de fictions qui dénoncent avec une violence décapante et ironique les vices et les vertus de l'ère victorienne? Dispose-t-on encore des clés de lecture pour comprendre toute la force de leur radicalité anticonformiste? On peut au moins admettre que les commissaires d'exposition ont réussi à mettre en lumière les contradictions et opacités de cet âge victorien fascinant, si populaire et cependant méconnu.
Pre-Raphaelites: Victorian Avant-Garde
12 September 2012
–
13 January 2013
J'ai pu couper ma visite par une pause thé au café du musée. Le cream tea est parfait, les scones sont vraiment délicieux, clotted cream et confiture Fortnum and Mason, pour un prix vraiment modique. La décoration n'est pas à la hauteur mais des travaux sont prévus.
For those interesting in the Pre-Raphaelite circle, see
Jan Marsh
's site. She is a biographer and wrote extensively on the period.
Pre-raphaelite sisterhood
blog might also be instrumental.