Plus le temps passe, plus le duc s'impose et semble tirer tout à soi. Bonjour, spectres ! Salut, électricité céleste !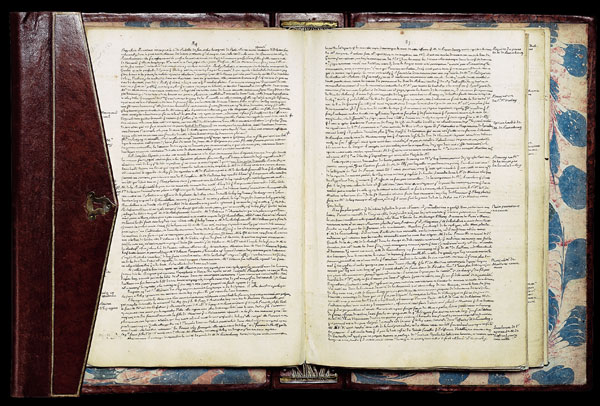 * Philippe Sollers, La guerre du goût, 1996
What do you do when you feel a night of insomnia looming? I just get up in the dark my body still heavy with slumber, I climb the stairs, grope to my bookshelves and let my fingers slide along the book covers until they stopped at one my sleeping consciousness has already settled on. Last night, it happened to be the Memoirs of Louis XIV by the Duke of Saint Simon. This choice was probably induced by the Duke's fame for concise narratives and I might have sensed it as appropriate for a small reading session. It was without taking into account Saint Simon's striking electric voice, the vigour of his pen and his breadth of style. I opened the book randomly and began reading the Death and Character of Princess Marie-Adélaïde of Savoie, Duchess of Burgondy. The devastating scene of Nanon de Balbien administering a clyster to the Duchess under the noses of the King and of Madame de Maintenon left me goggle-eyed and hilarious. Not really a good choice to sneak back into slumberland after being thrown out...
Je n'oserais jamais écrire dans des Mémoires sérieux le trait que je vais rapporter, s'il ne servait plus qu'aucun à montrer jusqu'à quel point elle était parvenue d'oser tout dire et tout faire avec eux. J'ai décrit ailleurs la position ordinaire où le roi et Mme de Maintenon étaient chez elle. Un soir qu'il y avait comédie à Versailles, la princesse, après avoir bien parlé toutes sortes de langages, vit entrer Nanon, cette ancienne femme de chambre de Mme de Maintenon, dont j'ai fait mention plus d'une fois, et aussitôt s'alla mettre, tout en grand habit comme elle était et parée, le dos à la cheminée, debout, appuyée sur le petit paravent entre les deux tables. Nanon, qui avait une main comme dans sa poche, passa derrière elle, et se mit comme à genoux. Le roi, qui en était le plus proche, s'en aperçut et leur demanda ce qu'elles faisaient là. La princesse se mit à rire, et répondit qu'elle faisait ce qu'il lui arrivait souvent de faire les jours de comédie. Le roi insista. « Voulez-vous le savoir, reprit-elle, puisque vous ne l'avez pas encore remarqué? C'est que je prends un lavement d'eau. — Comment, s'écria le roi mourant de rire, actuellement là vous prenez un lavement? — Hé vraiment oui, dit-elle. — Et comment faites-vous cela? » Et les voilà tous quatre à rire de tout leur cœur. Nanon apportait la seringue toute prête sous ses jupes, troussait celles de la princesse qui les tenait comme se chauffant, et Nanon lui glissait le clystère. Les jupes retombaient, et Nanon remportait sa seringue sous les siennes; il n'y paraissait pas. Ils n'y avaient pas pris garde, ou avaient cru que Nanon rajustait quelque chose à l'habillement. La surprise fut extrême, et tous deux trouvèrent cela fort plaisant. Le rare est qu'elle allait avec ce lavement à la comédie sans être pressée de le rendre, quelquefois même elle ne le rendait qu'après le souper du roi et le cabinet; elle disait que cela la rafraîchissait, et empêchait que la touffeur du lieu de la comédie ne lui fît mal à la tête. Depuis la découverte elle ne s'en contraignit pas plus qu'auparavant

.
Saint Simon, Mémoires, tome 10, ch. 4.
1 François de Troyes, Princess Marie Adélaïde of Savoie, Duchess of Burgondy,
The Pushkin State Museum of Fine Arts
2 Louis de Rouvroy, duc de Saint Simon,
Manuscrit autographe des Mémoires du duc de Saint Simon,
Bibliothèque nationale de France (BNF)
3 Portrait of Marie Adélaïde of Savoye, while Duchess of Burgondy,from 1711 until 1712, BNF
4 Clyster serynge, 18 th century
5 Perrine Viger-Duvigneau, Louis de Rouvroy, duc de Saint Simon,
huile sur toile, 2e moitié du XIXe siècle,
Châteaux de Versaille et de Trianon © RMN/Gérard Blot
Lire Saint Simon, Scatologie, blog de Patrick Narzul
Pile face, blog de Philippe Sollers, Dossier Saint-Simon